New Fiat 124 Spider near Houston
New Fiat 124 Spider
in Spring, Texas
Fiat 124 Spider: Stylish, Streamlined, Athletic Performance
The Fiat Spider 124 provides a fantastic option for driving enthusiasts in Spring who are in the market for a two-door, convertible roadster that blends punchy, athletic performance with vintage Italian style. Inside the Spider's compact yet classy interior, you will find a highly refined, ergonomically designed cabin featuring an array of advanced tech and premium safety amenities.
The 124 Fiat Spider offers a fun, stylish driving experience along with a reasonable sticker price, perfect for cruising on the highways or for outings to the Houston Zoo. For more information or to schedule a test-drive, contact us or stop by Northside Imports Houston today.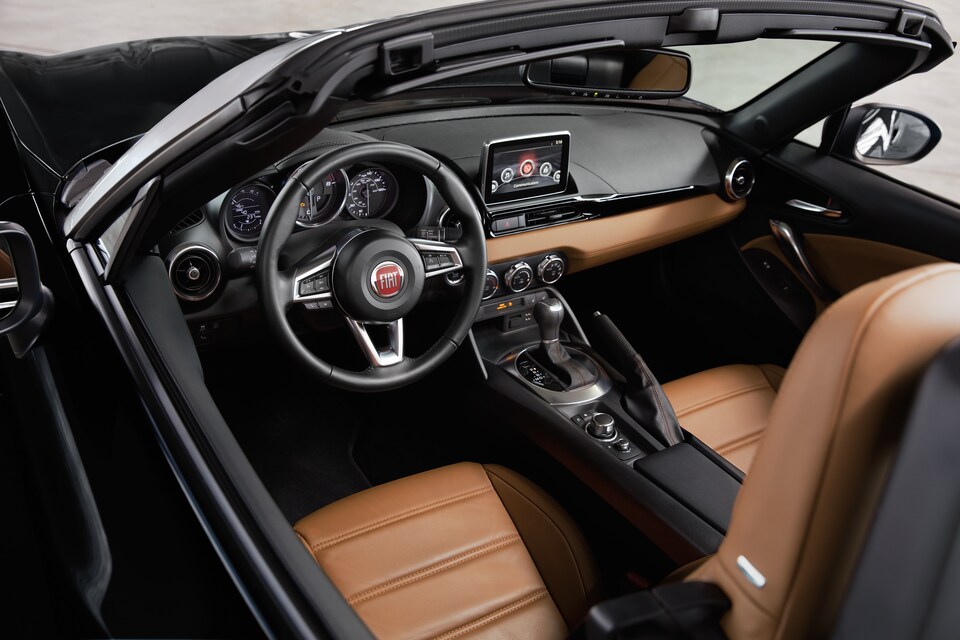 Lightweight: Tipping the scales at a curb-weight of just 2,436 pounds, the 124 Spider's svelte, compact frame amplifies its performance and handling capabilities while also maximizing fuel efficiency.
Stylish Look: The Fiat 124 Spider's exterior seamlessly infuses modern sophistication with timeless European elegance.
Engine: All 124 Spiders come equipped with a turbocharged 1.4-liter four-cylinder engine that produces up to 164 horsepower and a punchy 184 pound-feet of torque.
Cabin: When you immerse yourself into the cockpit of a Fiat 124 Spider, prepare to be captivated by the precision-engineered cabin that combines refined sophistication with a highly functional, ergonomic design.
Convertible: The 124 Spider's drop-top convertible system features an easy-to-use, one-step lever mechanism and a soft cover made with innovative noise-canceling acoustic material to minimize unwanted, outside noise when driving with the top up.
Handling: The fun-to-drive 124 Spider delivers athletic, responsive handling due to its sport-tuned suspension and limited-slip differential. Bilstein performance suspension is available on top trim levels.
Best-in-Class Cargo: The fun-sized, 124 Spider roadster comes standard with a surprisingly spacious 4.9 cubic feet of cargo room, best-in-class among all two-door roadsters currently on the market.
Quiet: Engineered with innovative, sound minimizing materials, such as an acoustic windshield and noise-canceling insulation, the Fiat 124 Spider delivers an exceptionally quiet, comfortable ride with minimal outside noise.
Smart Safety: The 124 Spider incorporates advanced, driver safety technologies such as available blind spot monitoring, rear cross-traffic alert, park assist, a rearview camera and more.
Manual or Automatic: Driving purists in Houston will be happy to hear all 124 Spider models come available with a six-speed manual transmission, featuring a short-throw shifter. All 124 Spiders can be purchased in a six-speed automatic transmission configuration as well.
Fuel Efficiency: The Fiat 124 Spider delivers a highly practical, up to 26/36 mpg city/highway fuel efficiency rating.
Value: With a combination of sleek, sophisticated style and sporty yet practical performance, the Fiat 124 Spider packs a tremendous amount of value into its compact frame, at a reasonable price.